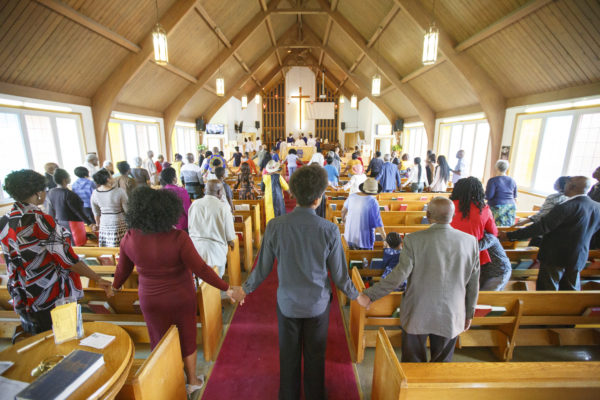 The parish was originally part of the parish of St. John's, Weston. With the rapid growth of the district during 1950-1952, and with about 90 Anglican families with 122 children in the area, it was agreed that there was a need for a Sunday School in the neighborhood.
On Nov. 29, 1953, the Sunday School held its opening meeting at the Crang Plaza auditorium with 75 pupils and 8 teachers. By 1954, there was major growth in the Sunday School. This resulted in the opening of another Sunday School in the east section of the parish at Roding School.
In 1956, the parish boundaries were set as follows: on the west side by Highway 400, on the north side by Sheppard Avenue, on the east side by Keele Street and on the south side by Highway 401.
In March 1954, the Rev'd. Frank Fry of Wolfville, N.S. was appointed as first Rector. He arrived in May (1954) and services were held in the portable church. By September, a petition was sent to the bishop to establish the parish of St. Stephen. Bishop Wilkinson announced the establishment of the parish in January 1956. The cornerstone was laid in May of that year. In November of that year, the new building was dedicated by Bishop Wilkinson. On Oct. 4, 1987, the Church was consecrated.
Since the late 1970s and early 1980s the demographics of our worshipping community have changed significantly. Reflecting the wider community, our congregation consists of persons from Canada, Anguilla, Antigua & Barbuda, Barbados, Ghana, Grenada, Guyana, Hungary, Jamaica, Nigeria, Sri Lanka, St. Kitts, St. Vincent & the Grenadines, the Congo, the United Kingdom, Trinidad & Tobago, Zambia and Zimbabwe.