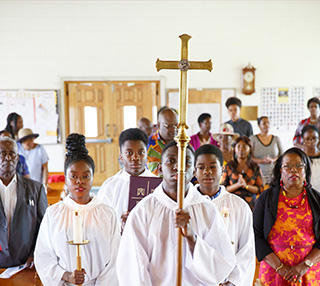 The Church of St. Stephen, Downsview is a diverse and caring Christian community reaching out in love to others. Our mission is to worship God creating a caring Christian community through growth and celebration, using our gifts and talents to reach out in love to others.

We are an intergenerational congregation of parishioners, ranging from infants to youth to the elderly. A number of parishioners who grew up in the church are now raising their own children here, creating strong bonds and relationships within the parish.
We are actively involved in the community through our outreach programs, the Downsview Youth Covenant (DYC) and the Saints Café. These are key ministries in the neighbourhood we serve. Our commitment to our outreach programs and interaction with one another reflect our commitment to Jesus and the work that he did.
Christ is alive and working in the midst of the parish through our various ministries, which are structured in a manner that reflects the love of Jesus, one another, and the community. We have a passion for ministry and outreach, and the church is always abuzz with activity as a result. Please take a look at the ministries we offer at the church for more information.